Brochure PTOS-M
Brochure PTOS-M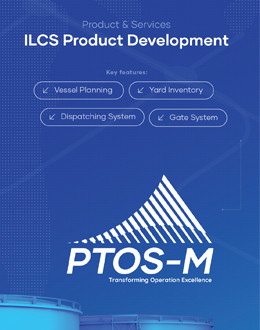 Brochure PTOS-M
Download
PTOS-M is used to assist terminal operators in managing various general cargo, liquid bulk and dry bulk starting from planning, operating, monitoring and reporting.

Feature
1. Vessel Planning
Vessel particular data management and ship visit data management.
2. Yard Inventory
Manage the positioning of goods safely and precisely.
3. Gate System
Easy automation in the process of receiving and sending as well as the effectiveness and efficiency of the transaction gate.
4. Dispatching System
Improve service quality to be more effective and efficient.
Benefit
1. Personnel Efficiency
Service users do not need to assign personnel to come to the terminal to request services.
2. Minimize Fraud
There are no meetings and transactions are carried out through the application to prevent fraud.
3. Space Availability
Service requests are not limited by working hours and are available 24x7.
4. Standard Service
The process for requesting part services is standardized at all terminals in the Pelindo area.