Brochure Maleo
About Maleo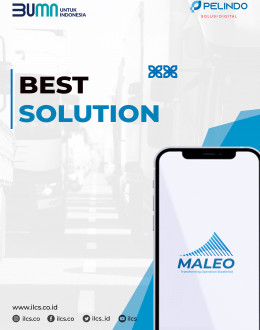 Brochure Maleo
Download
Maleo is an application for managing external truck data with the concept of a single truck identification number for all terminals. It is also equipped with a mobile application as a Digital Driver ID to measure the performance of terminal services and as a validation of the validity of Trucks and Drivers carrying out activities at the Port which are directly supervised by Port Operators.

Feature
Single TID and DID
One ID concept for all terminals to increase visibility of trucking transactions

Traffic Dashboard
Visualization of peak time of truck activity at each terminal

Online Training
Online learning feature that can be accessed by mobile with output in the form of a certificate
Profit
Provides visibility for drivers to terminal services.
Centralized database for Truck and Driver data.
Easy identification of Trucks and Drivers operating in the Port.
The activities of trucks and drivers at the port are more recorded and monitored
As a basis for regulating traffic and traffic at the port.